More About Our Program Curriculum
We're impressed with our curriculum, now it's your turn! We hope to engage your child's sense of identity by capturing his/her imagination and attention. So, we put a lot of effort into providing our students with substantive lessons and a positive atmosphere.

The lessons are multi-sensory and hands-on, ensuring that the students truly experience what they are being taught. The lessons are structured with discussion-starters, to create a lively, interactive classroom experience. The information truly becomes the student's own.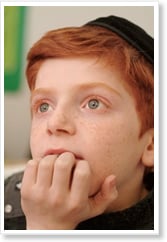 Our Hebrew School uses the new, acclaimed
Aleph Champ program to ensure that your child will read fluently at the end of his/her Hebrew School experience.
Hebrew Lessons
Our students learn to read & write Hebrew. They gain confidence and familiarity with the Siddur-Hebrew Prayer Book. Modeled after the Karate/Martial Arts motivational system, Aleph Champ works by dividing different reading skills into levels defined by color. Readers, workbooks, flashcards and activities motivate students to reach the next level.

Torah Learning

Study of the weekly Torah portion provides our students with practical lessons that apply to our daily lives.

The Land of Israel

Our students will attain an affection for our heritage and a uniqueness of our homeland Israel.

Jewish History
The students gain an appreciation of our heritage and culture that has been preserved throughout the ages.

Holidays and Shabbat

Traditions and celebrations, exploring the Jewish Holidays and Shabbat will provide deeper knowledge and understanding for our students.

Jewish Values

Beginning with the origins of the mitzvot, stressing practical applications in our daily lives, our students will explore and develop their Jewish pride and identity.

Gain Hands-on Experience!
Crafts, Cooking and gardening, and drama projects are incorporated into our curriculum to add excitement to upcoming holidays and Mitzvot. Our projects have Jewish holiday and Mitzvah themes and will add a taste of Jewish life to your home.
Extra Curricular Activities
Chabad Berkeley Hebrew School offers a variety of extra curricular activities such as Friday Night Shabbat Dinners, Holiday Celebrations and Saturday Night Havdallah and Pizza Party. These events allow our students to experience Judaism in its entirety, both in and out of the classroom. Students receive exciting prizes through a point system based on class and extra curricular participation and involvement.
Bar/Bat Mitzvah
One on one Bar/Bat Mitzva tutorials are available upon request. Contact Rabbi Yehudah Ferris for more information. There are additional fees for Bar/Bat Mitzvah lessons.
Shabbat Services
To further enrich our students and Jewish identity, we encourage attendance at our Shabbat Morning Services. A special youth program will be held the first Shabbat morning of every month.